I test printed a model today that I created last week based on SimHQ posting I saw.
Here's what the solid model looks like: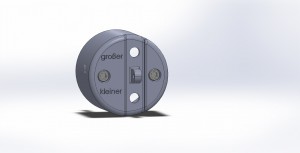 The lettering on the face of the grip relates to the control that hinges in the center of the grip – it controls propeller pitch.  It roughly translates to "Coarse" and "Fine".
Here's how the print came out:
As you can see, the lettering didn't turn out at all.  This could be fixed in one of three ways.  Increase the size of the lettering (not really practical), print with a smaller diameter nozzle – this was printed on a .5mm nozzle.  A .35mm might be small enough.  Last, you could print it flat and then mechanically engrave the lettering in post production.
My choice would be to do the lettering as a post-production step because the smaller nozzle diameter would dramatically increase the print time of the part.  At 0.5mm it took roughly 2 hours to complete.  With a 0.35mm nozzle, it would be closer to 5 to 7 hours.
The square pockets shown in the second photo are there to take a C&K 8221 tactile push-button switch.  Here's a photo I shamelessly lifted from Digikey's website: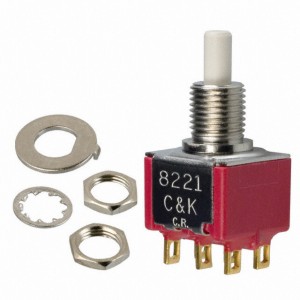 The rocking lever that goes on the face of the grip would hit the switches as it is rocked from top or bottom.  I don't know if I'll finish the design, but it was a fun design lesson and an interesting print.