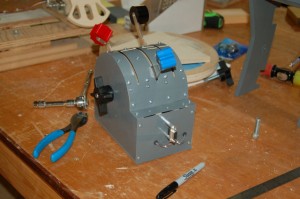 Well here's the completed throttle quadrant.  I'm happy with how it turned out – which is surprisingly good considering how much I suck at metalworking. 🙂
I'm using a standard DE9 connector for the three slide pots that are linked to each lever arm.
Right after I finished the throttle quadrant, I decided it was time to address the shortcomings in the rudder pedals that I built last summer.  I was very disappointed in both the toe brake mechanism as well as the size of the pedals.  I got lucky and found a pair of gas springs that had a 1-7/8″ stroke with a 40lb compression force.  They were surplus and ran me a whopping $1.99 each.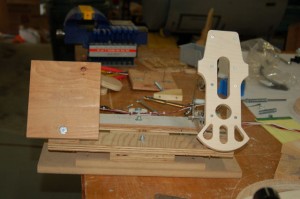 Here's a comparison between the new pedal design and the old one.  The new pedal is on the right.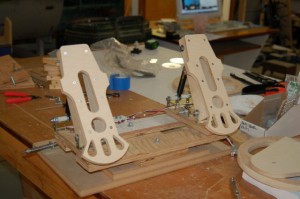 The pedal design is based on a set of CAD drawings I found on the 'net, drawn by a gent that goes by the nick Baloo.  The CAD drawings were entirely metric, which doesn't do me much good here – I don't dare mix measurement systems because I know for a fact it'll come back and bite me in the ass some day.  I drew a new pedal design based on Baloo's original drawing, but I increased the pedal length by about 1/2″.  They're just about 12″ long now.  The pedals were cut from 1/2″ Baltic Birch, which is a 7+ layer high quality plywood.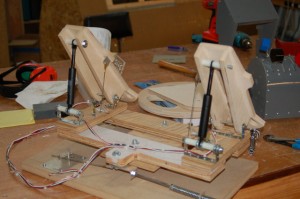 Here you can see the new gas spring setup.  The 40lb force required to actuate the gas spring gives a very realistic brake feel to the pedal.  I was very happy with the result.  I was also able to re-use the toe brake pots and actuator hardware without any changes.