As I mentioned before, the instrument panel on the Bf-109K4 (and some G models) consists of three parts.  An upper "casting", a main panel and a blind flying panel.
Since I had the day off today, I took a little time to get some work done before it got too hot in the shop to work.
The original panel mounts that I created aren't going to work with the current cockpit design, so some months ago, I fabricated some new panel mounting brackets on my 3D printer.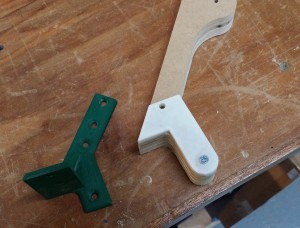 The green part is the original bracket I printed last year when I first started poking at this project.  The small white part is a drill template, which is also 3D printed.