Painting the cockpit is finally completed!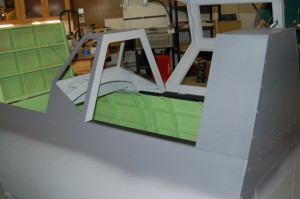 More pictures follow…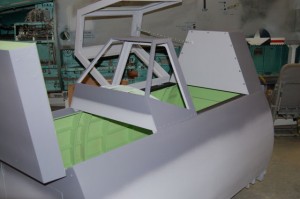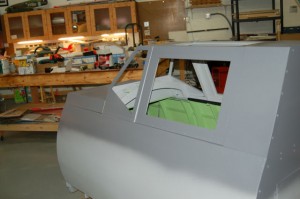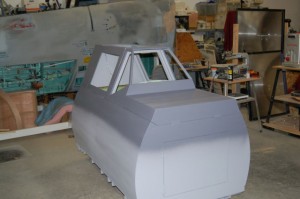 I think it turned out really well, especially considering this is the first time I've ever painted a cockpit. 😀
PropNut over at the SimHQ Pitbuilder forum has started working on a nice little cockpit and accidentally solved the seat problem I had.  I was trying to source a car seat of similar dimensions and price ($16!) that I'd paid for the red '93 Corsica seat that I used in the prototype.  The price for a car seat ranges from "Say WHAT?!" to "Are you f*cking kidding me?!".  So to say the least, I haven't found a good car seat.  However, thanks to PropNut, my search is over!
This is what I call the "Super Simple Seat".  It's dimensionally similar to the Corsica seat, but is simple enough that anyone can build it: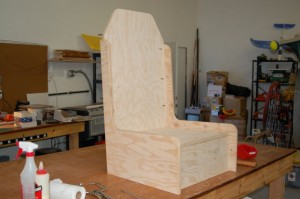 There's only 5 parts to this seat and the whole thing is assembled using pocket holes and 1-1/2″ pocket hole screws.
Here's what the parts looked like right after the 'bot was done.  It took about 10 minutes to cut these out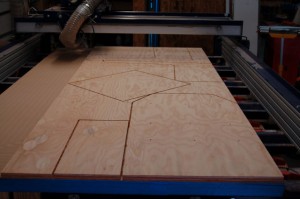 I used Vectric's VCarve Pro v5 to do the tool pathing for this project.  I used the new nesting feature and it managed to squeeze all the parts into a 3′ wide by 8′ long partial sheet of A-C plywood I had handy.
Here's a couple more pics of the seat:
Here's what it looks like sitting in the cockpit:
I'll get it finished off over the holiday weekend and post some pictures of it finished.  I'll be putting up the plans for this one so anyone can make it.  It won't be for a few days yet because I have a few changes on the seat that I want to incorporate into the "final" design now that I've got a prototype built.
As always, thanks for reading!