Now that I've got some more progress made on the F-15, I'm switching to my DIY cockpit project in order to get it finished.  Folks have been asking for pictures of what it looks like when completed.
Yesterday I finished applying primer to the last two components – next will come final assembly…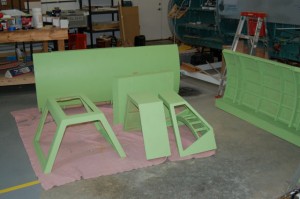 This color is known as Zinc Chromate Green and is used as a commercial aircraft part primer.  It's a powder coat material.
For the DIY cockpit project, I had my local Ace Hardware mix up some flat primer and they colored it based on a Zinc Chromate Green material sample I gave them.  It turned out really nicely.  The paint code for the color primer is listed in the downloadable manual on the DIY Cockpit Project site – http://www.geneb.org/pitkit.
Next up will be doing the design for the main instrument panel.  The panel will house a 14″ LCD monitor plus other instruments.