I've always intended on painting the shop floor.  It makes it look nicer and it's easier to clean.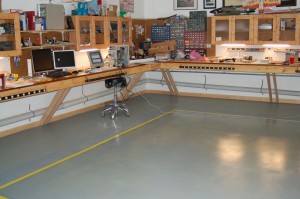 The yellow strip doesn't really signify anything.  It was just a clever way of separating the two different floor paint products I used.
The paint closest to the wall is a single part floor paint, the other is a two part epoxy floor paint.  I'd had them kicking around for a couple of years before I got around to using them up last week.  The whole floor wasn't painted either – just the corner area where the workbenches are.  The paint is extremely expensive, especially for the two part epoxy type.