This past week I began working on the instructions for how to build this project.
It is now officially named the DIY Cockpit, Series One.  The Series Two project will be started after I've had a chance to work on the F-15 some more. 🙂
As part of the documentation writing process, I needed to build another complete cockpit based on the final version of the plans.  Here's what all the parts look like: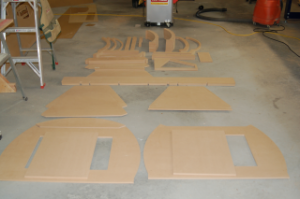 With the exception of the center core and the skins, this is all there is to the project.  I tried to design it to be as easy as possible to construct and I think I've accomplished that goal.  Only time will tell I suppose. 🙂
g.