As of yesterday, (14Aug10) the new projector stands are finished and they turned out great!
I got this idea after the last setup I'd done last month – it turns out it works just as well as I'd hoped.
The projector stands were built from 3/4″ plywood and 2×4's for the legs.  The support box is designed to hold a 3.5″ PVC pipe that acts as the actual support for the projector.  This allows the projector to rotate left and right very easily.  The height of the projector can be adjusted using a "step" pin that the PVC can rest on.  The series of holes you'll see in the sides of the support box are for those pins.
Here's what the interior of the projector stand looks like: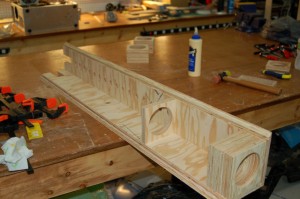 The column is right around 42″ inches high or so.  The box is built using "splines".  Basically you cut your box sides at a 45 degree angle and then leaving the blade at 45 degrees, you flip the part around and cut a channel along the length of the 45 degree cut.  By doing this you can insert a "spline" or long thin length of material into the slot that will act as a reinforcement to the joint.  It results in a very strong box when you're done.  I used 1/8″ hardboard strips as the spline material as it's nearly the same thickness as the blade kerf (the width of the cut made by the blade) on my table saw's current blade.
The inserts you see are there to support the PVC pipe.
The top of the box is capped with a 3/8″ thick sheet of Baltic Birch.  With a 45 degree chamfer on it, it looks very nice: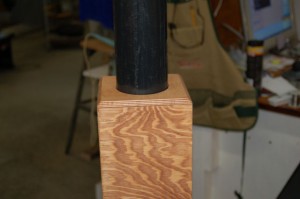 Mounted on top of the PVC pipe is a "yoke" that the projector itself will ride in.  The center line of the yoke matches the center line of the stand in order to maximize the stability of the setup.  The mounting points on the projector are located at it's lengthwise balance point.
Here's the three stands prior to mounting the projectors: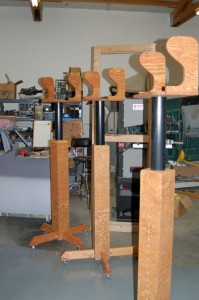 The yokes have an odd shape in order to ensure that even at an extreme down-angle, the VGA connector on the projector will still be easily accessible.
Here's the projectors mounted up – this is as "low" as they'll go.  The PVC is currently resting on the crossbeam that's formed by the 2×4 legs.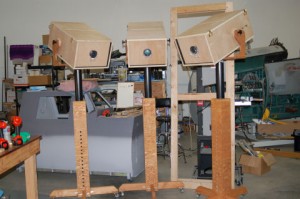 That's all for now.  Thanks for reading!