This project is to show how a computer subwoofer can be used to enhance your ejection seat, and it can be used with any type of ejection seat that you make.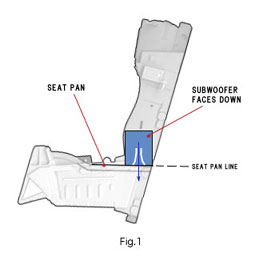 When you build your ejection seat, extend the seat pan out behind the seat far enough for your subwoofer to sit on. The subwoofer will be placed on the extended part of the seat pan with the speaker facing down, and the edge of the subwoofer box will be up against your back as shown in Fig.1. You may have a thin pad covering the box to make the ejection seat loook better, but it is important that the box touches your back so that you can feel the vibration from it..

The speaker sound will be directed down toward the seat pan, vibrating the seat pan that you are sitting on while cutting down the noise level a little.

Be sure that your games sound files have deep bass sounds for the afterburner and any other sound that you want to feel through your seat.